The host for Superbowls have typically been in warmer climates and or Dome stadiums. The last time a Superbowl was played in the snow was in Detroit. However, Ford Field is a domed football field.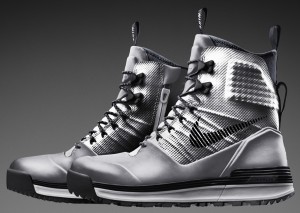 The traditional way of city where Superbowls are usually located are in warmer climates. Or even a dome field to insulate the football field.  The Superbowl of 2014 has broken the tradition. The event will be hosted in New Jersey at Metlife Stadium. Cold is expected for the 2nd of February match and Nike is prepared with a cold weather Super Bowl product line.
On the footwear side, Nike Sportswear has fitted the Lunar Terra Arktos Boot in a Super Bowl themed color combo. The kicks are dressed in a frosty grey colorway with black detailing. Check for a release as the Super Bowl approaches.