The 2014 NBA trade deadline has expired, and while the trading wire was a short supply of trades this year, there was still a lot of activity that'll have interesting backlashes on the margins.
Then again, the late move by the Indiana Pacers might wind up shifting the league's balance of power after all.
Overall, though, picking out winners and losers when teams are dealing from such different positions—and with such disparate goals in mind—isn't easy. A salary depot for one team looks like an acceptance of defeat, while it's a crafty move for another.
For the most part, teams shuffled smaller assets in an effort to trim salary, bolster benches and add leadership for playoff runs.
The brightest actions may have been the ones that didn't happen, though. After all, I think we can all concur it's probably best for the New York Knicks to not take part of the trade front. They maintained the little bit of hope they have for the future by avoiding a panic trade.
So, I guess congratulations to the Knickerboxers?
The Knicks will get a "winner" tag for doing nothing.
Let's see how the more active trade participants graded out.
To see Steve Blake leave the Lakers was unseen by many involved with the club. Fans and teammates will miss his rough, hard-nosed play. The entire organization will be sad to lose a genuinely good guy.
Even Blake himself completely is less than totally excited in the outcome of the deal, Mike Bresnahan of the Los Angeles Times mentioned: "Real mixed emotions. The hardest thing is for my family, really. I've got a wife and three little kids and now I'm going to have to spend four months probably away from them."
But relocating Blake to the Warriors for Kent Bazemore and MarShon Brooks—a move announced by Adrian Wojnarowski of Yahoo Sports—had to happen. It was an uncomfortable, necessary acknowledgement of reality in L.A.
Blake is a important piece to any club, but he's simply worth more to a team interested in winning games. The Lakers officially acknowledged their truancy from that category by saving a few bucks and adding a pair of young talents likely to get better.
It's nice to act like things will always turn out fine in Los Angeles. In fact, that's something of a pastime among many diehard fans. But taking a aggressive approach—even one that involves making painful moves —is probably a better way to go.
Winner: Brooklyn Nets and Sacramento Kings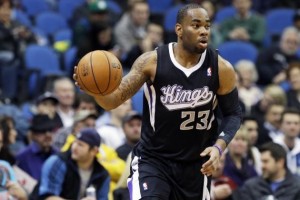 In the exchange that sent Marcus Thornton to the Brooklyn Nets in swapping for Jason Terry and Reggie Evans was the rare deal that aided both clubs.
USA Today reported news of the trade on Feb. 19.
The Kings get a combination of bad players for the price of one, which sounds like a bad thing. But it's a whole lot easier to move a pair of cheaper unwanted equity than one big one.
In fact, Rob McAllister of CBS Radio has a hunch Terry won't be in Sacramento for long. He tweeted: "Reading into Coach Malone's comments it is clear Jason Terry is never going to get on the floor or is getting bought out."
Whether Terry winds up elsewhere immediately or not, the Kings did well in this deal. They got rid of an overweight, overpaid shooting guard who had pretty much lost the ability to shoot. Thornton had abandoned the concept of defense this year as well, although he'd only ever embraced it loosely in the first place.
For a rebuilding team, jettisoning a guy who had quit trying is a good thing.
Despite his warts, Thornton is a younger gunner than Terry, and one with a more recent track record of semi-effective play. At 26, he's owed more than $8 million in each of the next two years, so he's going to punish the Nets by running their luxury tax bill up to about $89 million.
But as we all know, Brooklyn just doesn't care about money. So, in getting a slight upgrade over Terry, they're winners in their own free-spending way, too.
It's not cool to kick a man while he's down, although we could probably have a long discussion on whether or not getting fired from the Cleveland Cavaliers qualifies former general manager Chris Grant as being "down."
Some might say he escaped a sinking ship, even if he was the one who drilled the holes in the hull.
At any rate, interim Cleveland GM David Griffin is working a little magic lately, which makes Grant look pretty bad by comparison. We probably can't attribute the Cavs' six-game winning streak entirely to Griffin, but his slick exchange of Earl Clark, Henry Sims and a couple of second-rounders for the expiring Spencer Hawes (as reported by ESPN's Brian Windhorst) was exactly the kind of solid, necessary move Grant rarely made.
Hawes and his $6 million deal will come off the books after the season, but he'll be a huge boost for Cleveland in the meantime. Anderson Varejao's bad back is becoming a concern, and Hawes gives the Cavs a nice replacement if things go south for the big Brazilian.
More than that, he adds a floor-stretching dimension to the frontcourt that simply didn't exist before. And in being liberated from the increasingly dreadful Philadelphia 76ers, it should go without saying Hawes is a huge winner in his own right.
(Oddly, the 76ers replaced Hawes with Byron Mullens, getting the Clippers big man for a second-round selection, per Brad Turner of the Los Angeles Times. They clearly weren't ready to have a void in their jump-shooting-center department.)
Apparently, making smart deals isn't all that hard. Don't tell Grant, though; it'll just make him feel bad.
Let's get this straight: Andre Miller showed up Denver Nuggets head coach Brian Shaw with a sideline tirade, was paid to go home for a few weeks and now winds up on a playoff team in desperate need of a backup point guard.
I'm prepared to call him a big-time winner.
Miller is headed to the Washington Wizards in a three-team deal that'll send Jan Vesely to the Nuggets along with Eric Maynor and a pair of second-round picks to the Sixers, per Adrian Wojnarowski of Yahoo Sports.
The Wizards are duking it out for the No. 3 seed in the East with a handful of other competitors, and they've now addressed their most glaring weakness by adding Miller to back up John Wall. Maynor had been terrible in limited minutes, and Garrett Temple wasn't much better.
The ageless Miller won't suddenly put Washington on the level of the Miami Heat or Indiana Pacers, but he'll be a significant upgrade. If he's motivated, he might be enough to push the Wizards to the top of the Eastern Conference's second tier.
At the same time, his contract isn't fully guaranteed next year (only $2M guaranteed). So if things don't work out, he could be the subject of a buyout that would—yet again—pay him to not play basketball. This guy's got it all figured out.
It's never a good sign when acquisitions that were supposed to help a team get over the hump turn into salary dumps in the span of a few short months. That's exactly what's happened with the Milwaukee Bucks this year, and the deal sending Gary Neal and Luke Ridnour to the Charlotte Bobcats for Ramon Sessions and Jeff Adrien (as reported by CBS Sports' Ken Berger) is proof of how badly things have gone for the Bucks in 2013-14.
Neal—signed in the offseason after a stellar run with the San Antonio Spurs—was supposed to offer shooting off the bench. And if he brought over a dash of winning pedigree from the NBA's most successful organization, all the better.
But Neal has hit just 39 percent from the field in only 20.2 minutes per game this year. He's best known for screaming at teammate Larry Sanders about failing to earn the big bucks Milwaukee paid the disappointing big man.
So, Neal is gone now, exchanged along with Ridnour for a couple of fungible goods and a few million bucks in cap relief. Sessions and Adrien will save Milwaukee about $2 million this year and another $3.25 million in 2014-15.
Ultimately, trading Neal is a minor move. But it's one that signals just how quickly the Bucks' plans have fallen apart.
Bad times.
Despite five straight losses that have driven the Denver Nuggets 6.5 games out of the No. 8 spot in the West, they made a move to shore up their point guard position by snagging Aaron Brooks from the Houston Rockets in exchange for Jordan Hamilton, per Wojnarowski.
It was a somewhat desperate deal for the Nuggets. After all, teams now know enough to avoid dealing with deadline shark Daryl Morey unless it's absolutely necessary. But it also indicates an optimism within the Denver organization.
The front office seems to believe this season isn't a lost cause.
Hamilton is a younger, more athletic, more promising player than Brooks. He's not somebody to let go on a whim. But Brooks addresses a position of desperate need; the Nuggets basically don't have a point guard on the roster behind Ty Lawson. This is a move that indicates Denver believes it should be trying to win games, rather than lose them.
It's a low-risk acquisition, to be sure. Brooks is on a league-minimum deal and will come off the books this summer. Hamilton will also hit unrestricted free agency after the season.
Denver's hopes of playoff contention—if that's what this move indicates—are probably a little misguided. There's an awful lot of ground to make up in the West and little time in which to do it.
But let's not bury the Nuggets for hoping. It's kind of endearing.
Getting traded is hard on an NBA player. It's a life disruption, one that forces a professional and personal recalibration.
Getting traded for absolutely nothing is even harder.
The Miami Heat sent Roger Mason Jr. (and cash!) to the Sacramento Kings for a heavily protected second-round pick. Per Brian Windhorst and Marc Stein of ESPN, it's unlikely that selection will ever be conveyed to the Heat.
Mason's exit opens up a roster spot Miami hopes to fill with a veteran at some point in the coming weeks. The same roster availability worked out pretty well for the Heat last time around, as Chris Andersen came out of nowhere to become a rotation staple during Miami's championship run.
The Heat are clearly hoping to add a similar high impact player this year.
Mason, though, is stuck with the distinction of being traded from a championship contending team to a rebuilding franchise for nothing.
The New York Knicks were mixed up in what seemed like a dozen different trade rumors heading into the deadline, each one less plausible than the last. In the end, they did nothing.
In many ways, that's a victory.
Nobody trusted the Knicks to make the right decision in the first place, and with such limited options, few assets and zero leverage, any potential deals would have been desperate ones. If they surrendered first-round picks for the likes of Andrea Bargnani when there was relatively little pressure to make a move, how big of a disaster would a deadline deal have been?
It's hard to know whether the absence of activity by New York's front office was a result of wisdom or a simple inability to offer anything trade partners would want. If it was the latter, we can't really credit the Knicks for trying (and failing) to do something dumb.
But if there was a small kernel of caginess behind the Knicks holding onto their few remaining assets, I guess they deserve some praise.
Score one for sanity.
Moments after the deadline passed, Adrian Wojnarowski reported the Spurs' acquisition of Austin Daye from the Toronto Raptors. To get him, they surrendered Nando De Colo.
At the same time, Turner Sports' David Aldridge informed us the Clippers had shipped Antawn Jamison to the Atlanta Hawks for the draft rights to household name Cenk Akyol (h/t to ESPN's Arash Markazi on Akyol). It appears the Clips are freeing up a roster spot in the same way the Heat did by dealing Mason.
Both reports came in a little past the deadline, but we're going to give Wojnarowski and Aldridge the buckets. They'd started the reporting motion before the whistle blew.
Ultimate Winner: Indiana Pacers


Nearly a half-hour after the deadline had officially passed, Wojnarowski reported the Indiana Pacers sent Danny Granger and his expiring deal to the Sixers for Evan Turner and LaVoy Allen.
Put simply, this is a massive win for Indy.
Turner isn't a star by any stretch; his numbers are inflated by the 76ers' fast pace and lack of capable scoring options. But he's a heck of a lot more useful than Granger, who has averaged 8.3 points on 35.9 percent shooting in 29 games this year.
As a capable ball-handler who can score, get to the hoop and bolster the second unit, Turner has real value to the Pacers. Plus, Indiana can simply let him go this summer by not offering him a qualifying offer in free agency. The same is true for Allen.
And even if the Pacers want to keep Turner to replace Lance Stephenson (if the breakout guard gets a big offer as an unrestricted free agent), they can do that, too.
In short, the Pacers got markedly better for their upcoming playoff surge, took on no extra guaranteed money for the future and got themselves an insurance policy in case they can't keep Stephenson. That's a complete and thorough victory.
Rajon Rondo stayed put in Boston. Harrison Barnes is still a Warrior. Pau Gasol remains a Los Angeles Laker.
Meanwhile, non-needle-movers like Miller, Blake and Hawes dominated the deadline news. Turner joining the Pacers was a solid, highly intelligent move by Indiana, but it was hardly a huge deal. After all, Granger, whom the Sixers got in return, is little more than an expiring cap figure.
The message is clear: Blockbusters are dead.
Well, at least at the deadline, anyway. This is the second consecutive year in which the league's supposed hot-stove season never heated up. There was plenty of talk, more than a few unsubstantiated rumors and pipe dreams galore.
But in the end, nothing big ever materialized.
Maybe it's the CBA's elimination of long-term, huge-money deals. Perhaps teams now realize it's just as good to keep expiring contracts as it is to trade them. Who knows?
General managers are getting smarter and perhaps more careful. That's probably good for organizational stability, but it's not any fun for deadline observers.
So long, panic trades. Farewell, mega salary dumps. You'll be missed.