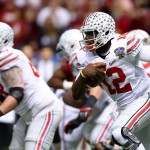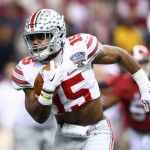 It looks like the first College Football Playoff was a success.
Placing two of College Footballs hottest programs to face each other. Oregon and Ohio State have future NFL studs that will be playing each other in this years Championship game. More then likely if the BCS was still around it would be Ducks vs Buckeyes in the Rose bowl and Alabama vs Florida State. Hiesman Trophy winner Marcus Marioti will be going against the victorious strong willed Buckeyes squad.
Smashing news came through the wire Late Friday evening regarding the Ducks.
Aaron Fentress with Comcast Northwest reported that wide receiver Darren Carrington failed a NCAA drug test and is suspended from the game.
This is a devastating blow for the Ducks, especially having their other wide receiver Devon Allen who hurt his knee in the Rose Bowl.
With Carrington having two of the greatest performances in his career. Against Florida State he torched them with receiving yards of 165 and two touchdowns. In the PAC 12 title game he had 126 receiving yards.