ITS 2013 Year in Review Sports Edition: Top sports headlines of 2013.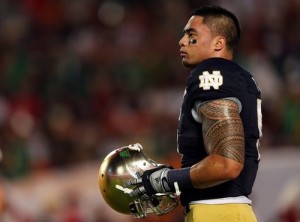 Manti Te'o girl friend hoax 
After such a long meaningless investigation by deadspin.com, it was made known that Notre Dames star linebacker Manti Te'o's supposed girlfriend Lennay Kekua, who had died of cancer earlier in the year, had never existed. A family friend Ronalah Tulasosopo impersonated a female voice, sent photos that were fake and even created a false online social media persona. Te'o discovered that he had been the victim of the hoax before the championship against Alabama.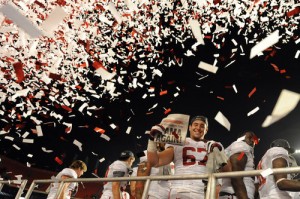 Alabama earned another championship 
Alabama won their third championship in four years by manhandling Notre Dame 42-14. Nick Saban was in glee in the locker room after the cameras were off.
Baltimore Ravens win Superbowl XLVII
The Ravens beat the 49ers in the Superbowl that featured a blackout in the stadium and a stoppage of play. Even though the lights in the Superdome were largely blacked out, Beyonce still tore up the halftime show.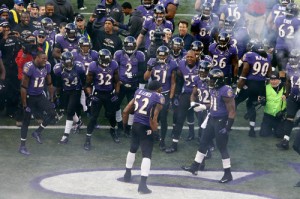 Ray Lewis Retires
After 17 years in a Baltimore Ravens uniform, superstar linebacker Ray Lewis decided to hang up his helmet for good. He closed out his career with a bang wining his second Super Bowl. Thirteen Pro Bowls, Three time AFC Defensive Player of the Year and two SuperBowls? Not a bad career.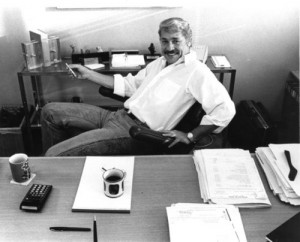 Jerry Buss dies
The safe made millionaire, David Buss purchased the Lakers in 1979 and transformed the NBA from sport to spectacle. With getting players on the Lakers like Kareem Abdul-Jabbar, Magic Johnson and Kobe Bryant, his teams won a total of 10 championships.  David Buss died at the age of 80.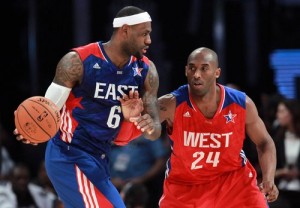 Jordan takes Kobe over LeBron 
Michael Jordan, now owner of the Charlotte Bobcats, told Ahmad Rashard in an interview, "If you had to pick between the two, that would be a tough choice." Also adding, "But five beats one every time I look at it." Of course, this was before James won his second title later in the year.
Louisville wins National Title
Michigan lost to Louisville in the NCAA Championship game. Louisville capped an impressive run of games. The Cardinals star player was even gone, Kevin Ware did not suite up due to a gruesome injury that happened earlier in the tournament.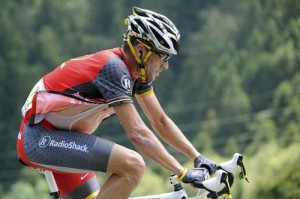 Lance Armstrong admits to doping
Armstrong admitted to using performance enhancing drugs during all of his record seven Tour de France wins. His remaining sponsors scattered and its unclear what criminal and civil penalties Armstrong may face.
UConn Women win another Title 
The Huskies women's basketball team defeated the Louisville Cardinals to hois their eight championship since Gino Auriemma began leading the team.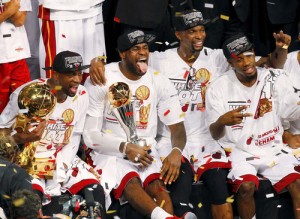 Heat win their second title in a row
The lights out shooter Ray Allen hit the miracle game winning shot that kept the Miami Heat alive in Game 6. Lebron had a 37 point and 12 rebound performance that also catapulted the victory in Game 7. The second title was a great finish after seeing the Heat go on a 27 game win streak, one of the longest in NBA history.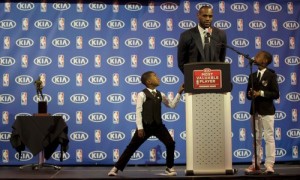 LeBron James receives fourth MVP trophy 
James won his fourth MVP award with a dominant performance statistically for the season. James averaged 26.8 PPG, 8 RB and shot .565 from the field. Also, winning the title may have had some leverage.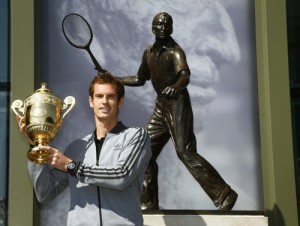 Murray makes history at Wimbledon 
After 77 years of pain, Andy Murray became the first British man since 1936 to win the men's title at Wimbledon. He had a stunning victory over world number one Novak Djokovic.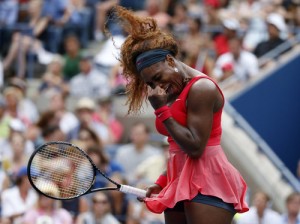 Serena dominates 2013
With two Grand Slams, 11 titles and a about a trillion overall wins made 2013 one of the best years of Serena Williams already Hall of Fame worthy career.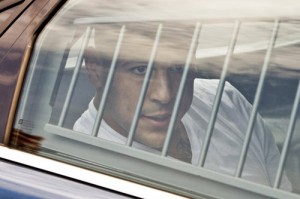 Aaron Hernandez charged with murder, released by Patriots
The tight end of the New England Patriots Aaron Hernandez was charged with first degree murder of semi-pro football player Odin Lloyd. The rising NFL star was cut by the Pats, pled not guilty, and is being held without bond. Hernandez was charged also with perjury for allegedly lying to a grand jury.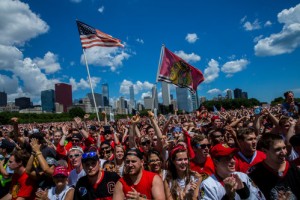 Here comes the Hawks
The Chicago Blackhawks returned to Chicago with the Stanley Cup after beating the Boston Bruins for their second title in four seasons. The Hawks also set an NHL record with their 24 game point streak to open the season.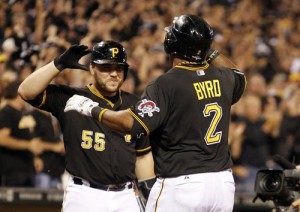 Pirates and Playoffs 
After 20 straight losing seasons, the Pittsburgh Pirates returned to the post season after defeating the Cincinnati Reds in the one game wild card play in. They did end up falling to the St. Louis Cardinals in the next round.
Redsox win it all 
One year after eating fried chicken and drinking bear in the locker room and having a disastrous 93 loss campaign, the Sox yet hoisted the Commisioner's Trophy. Their third championship in the last decade. They went from worst to first.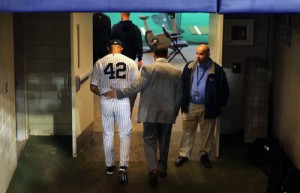 Mariano Rivera hangs up his glove 
Mariano Rivera suffered a knee injury in 2012, then he decided he needed one more year to complete his career. He is considered to be one of Major League Baseball's best closer ever. He received tributes and gifts from opposing teams as he came through town one final time.
Johnson wins again
Jimmie Johnson won the NASCAR championship again. This is his 6th championship, he is one short of Richard Petty and Dale Earnhardt who both share the all time record. Johnson already holds the record with 5 straight championships.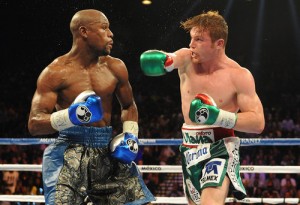 Floyd Mayweather JR. defeats Canelo Alvarez 
Alvarez was defeated in the hands of Floyd Mayweather Jr.  The WBC and WBA super welterweight belts were on the line. With Jr. still being undefeated the controversial conversation of Mayweather being one of the best ever, still continue to grow.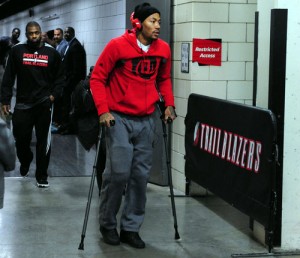 Rose reinjured 
After returning from an ACL and MCL injury that forced him to miss the whole entire 2012-2013 season, Derrick Rose tore a meniscus during a game against the Blazers.  The former league MVP had to miss another season with this current injury.
Richie Incognito suspended, Jonathan Martin leaves team
Incognito, a lineman for the dolphins was suspended after a series of incidents, including the use of racial epithets, against teammate Jonathan Martin. While the details are still emerging, it's still not clear if Martin or Incognito will return to the Dolphins or if any legal action will be initiated by Martin against Incognito.
Chris Davis runs it back for Auburn 
It has been hard to put in to words still even after weeks that has gone by. The 2013 Iron Bowl ended on a 109 yard run back of an Alabama field goal that fell just short. Perhaps the best football game of the year and some may argue ever.