Thinking about the adidas Mutombo 2013 Release, and what I was doing when they came out 20 years ago –
In January of 1992, Reservoir Dogs appeared at the Sundance Film Festival, by first-time writer-director Quentin Tarantino. The Washington Redskins won superbowl XXVI and Mike Tyson went to trial for rape (he would later be convicted and sentenced to 10 years). The Lakers retire Magic Johnson's #32 uniform. At the age of 16, Tiger became the youngest PGA golfer in 35 years.
In February, President Bush and Yeltsin proclaimed a formal end to the cold war. A few months later, violent riots erupt in the streets of Los Angeles after four police officers are acquitted in the brutal beating of Rodney King. Clinton and Gore were elected and Democrats kept control of Congress.
After 20 years American's saw Jhonny Carson's last appearnce as host of Tonight Show, and watch the final episodes of Growing Pains and Night Court.
And though, IBM announced a loss of 5 Billion, a text-based Web browser is made available to the public, and compact discs surpass cassette tapes as preferred medium for recorded music.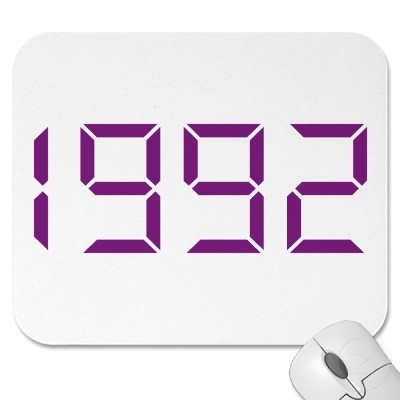 Madonna signed a $60 Million deal with Time Warner and Natalie Cole's 'Unforgettable' won Grammy's for Record, Album, and Song of the year.
For me, I might not have remember any of that happened specifically in 1992 if it weren't for Wikipedia. What I wont forget are the songs that were on the radio and television-
According to Billboard, there were some great songs on the charts that year, what were you doing when these were playing?
Billboard Year-End Hot 100 singles of 1992 (Recap)

Which was your favorite?
Here are some that I'm sure most of you have some memories tied too-
Boyz II Men – End Of The Road

Sir Mix-A-Lot – Baby Got Back (I Like Big Butts)

Kris Kross – Jump

Vanessa Williams – Save The Best For Last

TLC – Baby-Baby-Baby

En Vogue – My Lovin' (You're Never Gonna Get It)

Color Me Badd – All 4 Love

Shanice – I Love Your Smile

Michael Jackson – Black Or White

Billy Ray Cyrus – Achy Breaky Heart

Mariah Carey – I'll Be There

Michael Jackson – Remember The Time

Madonna – This Used To Be My Playground

Mariah Carey – Can't Let Go

House Of Pain – Jump Around

Prince and The N.P.G. – Diamonds And Pearls

En Vogue – Giving Him Something He Can Feel

Jodeci Come & Talk To Me

Nirvana – Smells Like Teen Spirit

Bobby Brown – Humpin' Around

Tevin Campbell – Tell Me What You Want Me To Do

TLC – Ain't 2 Proud 2 Beg

Boyz II Men – It's So Hard To Say Goodbye To Yesterday

Queen – Bohemian Rhapsody

Arrested Development – Tennessee

Luther Vandross and Janet Jackson – The Best Things In Life Are Free

Mariah Carey – Make It Happen

Elton John – The One

P.M. Dawn – Set Adrift On Memory Bliss

Hammer – 2 Legit 2 Quit

Mint Condition – Breakin' My Heart (Pretty Brown Eyes)

Wishing On A Star – The Cover Girls

Hi-Five – She's Playing Hard To Get

U2 – One

CeCe Peniston – Keep on Walkin 1992

Kris Kross – Warm It Up

Michael Jackson – In The Closet

Arrested Development – People Everyday

Boyz II Men – Uhh Ahh

Mary J. Blige – Real Love

En Vogue – Free Your Mind

CeCe Peniston – We Got A Love Thang

Das EFX – They Want EFX