Google Fiber is coming to 18 cities in four metro areas: Atlanta, Charlotte, Nashville, and Raleigh-Durham
Google announced its Google Fiber service is coming to 18 new cities across four metro areas: Atlanta, Charlotte, Nashville, andRaleigh-Durham. This is in addition to the existing Google Fiber areas of Kansas City, Provo, and Austin.
That's not all. Google says it is still exploring the option of bringing Google Fiber to five additional metro areas: Phoenix, Portland, Salt Lake City, San Antonio, and San Jose. These potential cities will be getting news about whether they made the cut "later this year."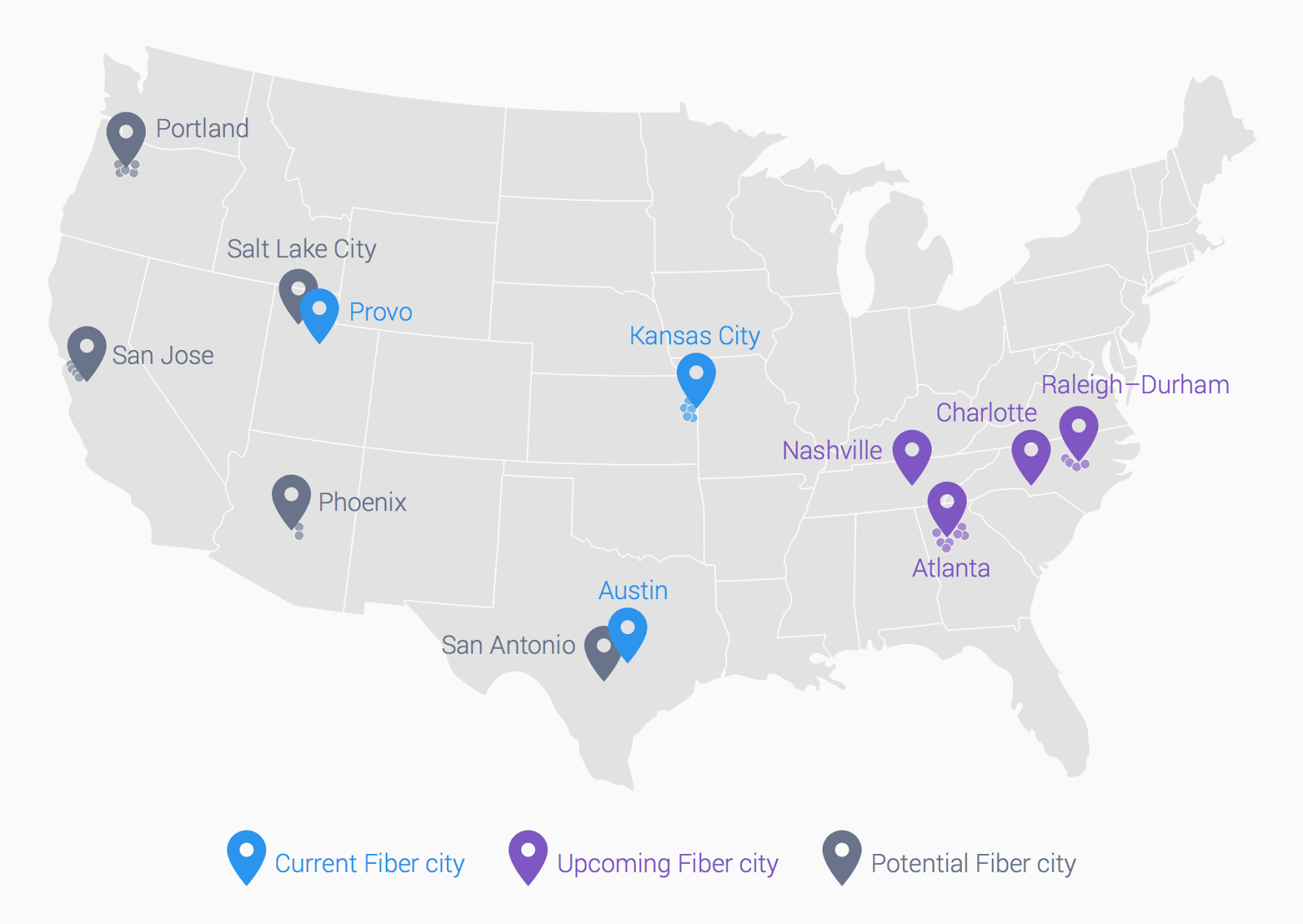 While the announcement may be official today, Google has been working with city leaders over the past year to prepare. Here is how the company outlined its plans:
Our next step is to work with cities to create a detailed map of where we can put our thousands of miles of fiber, using existing infrastructure such as utility poles and underground conduit, and making sure to avoid things like gas and water lines. Then a team of surveyors and engineers will hit the streets to fill in missing details. Once we're done designing the network (which we expect to wrap up in a few months), we'll start construction.
Google has also been very busy with growing Fiber in its existing cities. In November, for example, it promised free Internet to Austin's public housing residents, and kicked off its Google Fiber for Small Business option in select areas of Kansas City.

As it moves forward, Google's pitch has naturally been transforming from "this is an experimental project" to "gigabit broadband is the future." Today, the company referenced last week's U.S. President Obama's State of the Union speech calling for faster networks, research showing gigabit networks are contributing billions of dollars in economic growth, and U.S. communities in general demanding more speed for their homes and businesses.
Rumors of Google's plan to expand its Google Fiber service to more cities have been ongoing since at least February 2014. In fact, they continued right up until yesterday, when The Wall Street Journal reported on the upcoming news.