When first looking at the headline for this article, I am sure the initial response is: What changes?
In reality there is not much more you could ask from Manny in his debacle to Desert Storm. You could ask anyone and they will all say that Pacquiao won the fight.
Just take a look at the final stats, according to CompuBox.
Pacquiao vs. Bradley Fight Stats
Total Punches Jabs Power Punches
Manny Pacquiao 253 63 190
Timothy Bradley 159 51 108
CompuBox
These are the infamous judges and their final score cards; judges C.J. Ross and Duane Ford scored it 115-113 for Bradley, and Jerry Roth had it 115-113 for Pacquiao.
Top Rank promoter Bob Arum was apoplectic at the result, per ESPN.com's Dan Rafael:
"These people don't know how to score, they really don't," Arum, who has promoted fights for almost 50 years, said at the postfight news conference.
"What the hell were these people watching? … How can you watch a sport where you don't see any motive for any malfeasance and yet come up with a result like we came up with tonight. How do you explain it to anybody?"
Even with his strong performance, Pacquiao has some improvements he can make in a few key areas when the rematch comes along. If he can carry out these three things. then revenge will be his.
Do Not Leave Any Room for Hesitation
The clear thing for Pacquiao to do is beat Bradley so easily that the judges have no choice but to crown him as the winner. Pacquiao can't let the judges have any sort of case with which to defend.
After the loss, Pacquiao said, "I guess my best wasn't good enough," per Rafael.
While the Pac-Man performed well in that fight, it just was not enough. He definitely needs to execute much better in the rematch.
Arum said, "We would like this to be emphatic. We would love an outcome like the Ricky Hatton fight," per The Telegraph's Gareth A. Davies.
Pacquiao came out determined in that fight, knocking out Hatton in the second round.
Expecting a performance like that on Saturday is improbable, considering Pacquiao's five years older. But you can understand the sentiment.
Make Timothy Bradley Desperate into the Late Rounds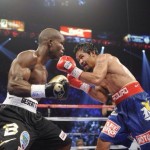 Bradley is definitely not a knockout artist. Of his 31 wins, only 12 have come via KO.
Instead, he relies on his speed and technique. Bradley is happy to stay on defense and counter his opponent's best blows.
Of course, Pac-Man couldn't be any different. He comes at his opponents early and often, throwing a massive volume of punches.
What Pacquiao needs to do is take Desert Storm out of his comfort zone. He must force Bradley to go on the offensive and take more risks. The more he does that, the more he opens himself up to be knocked to the canvas.
This plays into the first key point listed above. If Pacquiao can be effective and win the early and middle rounds, desperation will start to set in for Bradley. He'll have to try something different to win the fight in the final rounds, and that could leave him massively exposed.
Don't Fade Down the Stretch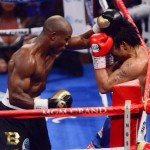 To say Pacquiao started to fade in the later rounds is not accurate by any assessment. He never lost control of the fight and not in the least did he look like he deserved to lose.
Yet, when looking at the numbers, there seems to be a slight decline from the 10th round on. In the final three rounds of the fight, Pacquiao hit 55 punches, 35 of which were power punches. In the seventh through ninth rounds, those numbers were 67 and 56, respectively.
By the time the 10th rolled around, Pac-Man probably figured he had the fight in the bag, so he didn't go on the offensive as much. Why should he leave himself open to a stupid knockdown when he's in firm control, right?
However, that late hiccup opened the door ever so slightly for Bradley. Both Roth and Ross gave all three rounds to Bradley, while Ford gave him the 10th and 12th.
Going along with the first key, Pacquiao can't let up too much late in the fight, no matter how much he thinks it's his to lose.